Utopia -
Sex and genetics
Should drug addicts be paid to be sterilised?

Barbara Harris thinks they should. She's already started a campaign in America, now she's coming to the UK

by Jenny Kleeman
Saturday 12 June 2010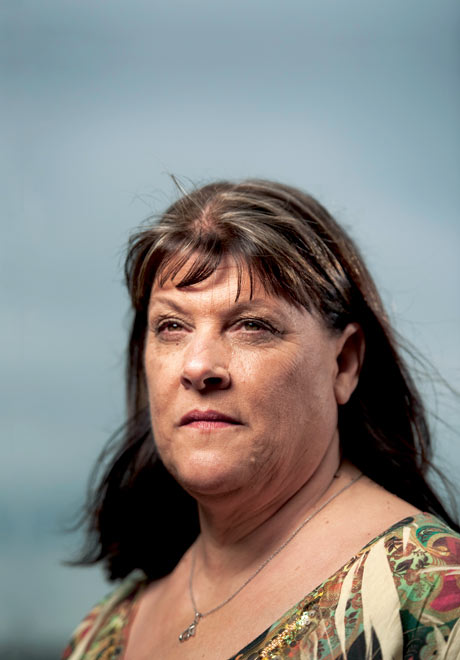 Barbara Harris 'To me, it's about preventing child abuse.' Photograph: Martin Hunter for the Guardian

It's overcast in Possilpark, one of the most deprived areas of Glasgow. Outside the pound shops and bookmakers on the high street, Barbara Harris, founder of US charity Project Prevention, is giving out flyers. She hands one to James, a wiry man in his 20s. "I'm from a nonprofit organisation," she tells him. "If you know any drug addicts or alcoholics who could get pregnant, we will pay them £200 to be on long-term birth control."

"I'm a drug addict!" James declares. "You'd give me £200? But I'm a guy…"

"You can have a vasectomy," Harris replies, quick as a flash.

His eyes widen. "Two hundred pounds! You don't get the money today, though, do you?"

"No, you don't get the money until after. Do you know any women who are pregnant and using drugs around here?"

"There are hundreds of women like that around here." He gestures up the road. "Go to the health centre – that's where you'll see them." Harris leaves James studying the flyer. He's grinning, incredulous.

She asks to leave flyers at the NHS health centre reception, but the manager is out, so she's told she'll have to come back. She sticks a few in the railings outside, and props four or five in the soil of a nearby flowerbed. The flyers are hand-cut, on yellow card. There's a photo of a tiny newborn covered in tubes above the slogan, "Every baby deserves a sober start."

Harris doesn't think addicts should have children, and her charity is using cash incentives to make sure they don't. In the 12 years since Project Prevention launched in the US, she has paid 1,307 people $300 to be sterilised, and given money to many more in exchange for long-term contraception. In total, Harris has bought the fertility of more than 3,000 Americans with drug and alcohol problems – only 47 of them men. Now she's turning her attention to Britain.

"To me, it's about preventing child abuse," she says. "This is legal child abuse." Babies are being born in withdrawal, underweight, with serious medical problems, she says, and if they survive, they are destined to a bleak future. "What's the quality of life they're going to have? How many problems are they going to have? The cycle will keep repeating itself. But it's preventable. It's just common sense to me."

It isn't common sense to everyone, though. It feels profoundly unsettling to be walking around one of Britain's poorest districts with a woman who's promising people serious money in exchange for their fertility. As we leave the health centre, I think about how Harris's website says her mission is "to reduce the number of substance-exposed births to zero". If she managed to achieve that goal here, a lot of people in Possilpark wouldn't be able to have children.

In the US, Project Prevention has been compared to the Nazis' eugenics programme, but Harris isn't bothered by her critics. "They are willing to call me Hitler, but what are they doing to help? Are they willing to adopt any of these children that they think should continue to be born? If they're not part of the solution, they're part of the problem. Everybody talks about the right of the woman – what about the rights of the children? They are the victims."

Addicts who decide to take advantage of Harris's offer call the project's hotline and leave their details. They are sent paperwork to take to their doctor, who must verify their drug or alcohol problem. Once they have been sterilised or had a long-term contraceptive fitted, the doctor signs papers to confirm it. When Project Prevention gets the papers back, the addicts get their money. It's a lump sum for those who choose sterilisation; those who go for less permanent birth control are paid in instalments, as long as they can prove the contraceptive is still in place.

Many female addicts opt for sterilisation by tubal ligation. I wonder whether that's because they get the cash sooner, but Harris insists it's because they've already had children and simply don't want more. "Of the last 20 women who've been sterilised, there's been an average of six pregnancies per woman, which I feel is more than enough to keep the human race going," she says. "But a lot of the girls that come to us are 22, 23, 24, and they've probably had two or three children. Those are the ones we're really excited to get, because at least you know they're not going to have another 10 by the time they're in their 30s."

American addicts learn about the programme from flyers and posters, through social workers, prison and probation officers, and from each other. "They get a $50 fee if they refer another addict," Harris says. "That's been a really smart thing that we implemented – who knows drug addicts better than drug addicts?"

She tells me about one occasion when she "went after" a Detroit woman she'd read about in the paper. Her 13th baby had just been taken off life support and she was refusing sterilisation because she wanted more children. "I said, no, she's not going to have any more kids, not if I've got anything to do with it. I called Detroit and asked my volunteers to find her. They offered her $500 to get tubal ligation. The day she had it, I celebrated."

How can she celebrate tracking someone down and forcing sterilisation on her? "I'm proud of it," she beams. "That woman has no right to have her 14th baby. I guarantee that anybody who cares about kids would do the same thing."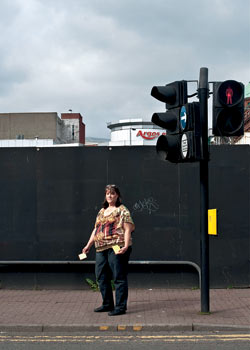 Barbara Harris Harris campaigning in Glasgow. 'If I was strung out on drugs, I'd hope that somebody would stop my irresponsible behaviour.' Photograph: Martin Hunter for the Guardian

Will such an extreme approach take off in the UK? We certainly face similar problems. Official figures show that more than 1,200 newborns are hospitalised every year with neonatal abstinence syndrome, and thousands more are born with alcohol-related problems, often to mothers who have had other children taken into foster care. Two-thirds of children in care have parents with addiction issues; the figure rises to 80% in Scotland. Harris has come to Possilpark because a local woman, a grandmother caring for her heroin-addicted daughter's children, heard her on the radio and emailed saying it was the worst place in the UK for substance abuse. Isn't she scared to be approaching people on the street, in a place she doesn't know at all? She is, at 58, quite slow on her feet and with an accent that makes her rather incongruous here. "We'll be fine," she says.

Harris wasn't always so confident. As a child, she was so shy she barely spoke in class, and left high school without graduating. By 1989, she was a waitress in California with six sons – two with her husband, Smitty, four from their previous relationships – but she craved a daughter. "I knew the only way I was getting a girl would be if I ordered one."

She and Smitty adopted Destiny, an eight-month-old baby born testing positive for addiction to crack, heroin and angel dust. Her birth mother was a long-term drug addict who'd had one child a year for the previous five years, all of them living in different homes. Four months later, Harris got a call telling her Destiny's mother had a newborn boy. Did she want him? They decided to adopt him, too, so Destiny could grow up with her brother.

"I went to the hospital and picked up Isaiah, and he was a mess. Light bothered him, noise bothered him, he couldn't keep food down, he'd sleep for 15 minutes and then wake up screaming. My husband and I had to take shifts with him for a couple of months until he finally adjusted. That's when I got mad. I thought, how could you do this to a baby? Knowing it was the sixth baby she'd done this to – I was beside myself."

Two more children, Taylor and Brandon, were born to the same mother in quick succession, and Harris and Smitty took them on, too. After adopting the four drug-exposed babies, now aged 20, 19, 18 and 17, Harris launched her crusade. First, she tried to have a bill passed in California that would force women who gave birth to substance-exposed babies to be sterilised or put on long-term birth control. The bill wasn't passed, but Harris didn't give up.

"I thought, well, everybody likes money, so how about I just offer drug addicts money to use birth control?" A lawyer from the Los Angeles children's court gave Harris her first donation – $400 – and she put up some posters around LA and Orange County, where she was living. Within a week she had two takers.

Project Prevention now receives more than half a million dollars a year in donations. "I've never had to go looking for money in 12 years," Harris says. "Money has always come to me. People hear about what we're doing and they think it makes sense." One of her biggest donors is the billionaire Republican Richard Scaife, a key financier of the US right.

Right wing zealot

Harris, however, isn't the rightwing religious zealot many imagine her to be. She believes in God, but doesn't attend church regularly and doesn't see Project Prevention as "God's work". She has been accused of racism because her programme has been heavily used by African-Americans, but her husband is black and her children are either black or mixed race. She is in favour of abortion, but not when used by drug addicts instead of contraception. And although she says she's never tried drugs herself, many close to her have: her father took speed, her brother was a crystal meth addict, and Smitty's brother has been using crack and living on LA's Skid Row for the past 15 years.

The children help run Project Prevention from the family home in Concord, North Carolina. They go on family excursions in a 30ft Project Prevention motor home, adorned with images of critically ill babies under slogans such as "She has her daddy's eyes and her mother's addiction". "It gets people talking," Harris says. "I've had my kids' friends come along, too. We just go out and they pass out flyers. They enjoy it. It's a good experience for my kids because they've seen it for themselves and they know it's nowhere they want to go."

I wonder if she feels compassion for the addicts whose fertility she has bought. What about those who come off drugs and want to start a family? "I think I'm more caring than someone who just ignores what they're doing. These women don't want to be having babies that are taken away from them, because that's something they're going to have to live with for the rest of their lives. If I was strung out on drugs, I'd hope that somebody would stop my irresponsible behaviour."

If anyone regrets being sterilised, one of Harris's donors has promised to pay for the procedure to be reversed. "That's never happened so far," she assures me. She makes it sound simple, but it can be difficult to restore a woman's fertility after tubal ligation. "If it's not reversible, then I don't mind. If you have that regret, that's no different from getting Aids while you're prostituting – it's just something that happened during your addiction, it's a consequence of your acts. I'd feel worse if they didn't get sterilised and they had more kids whose lives were destroyed."

D'Adria Bond, 36, has no regrets – so far. She had tubal ligation a couple of weeks ago after giving birth to a baby girl, Miracle, in a Virginia drug treatment centre. She's been pregnant 11 times by 10 different men, resulting in one miscarriage, four abortions and six children. The only child she has custody of is Miracle. Bond had been using crack and alcohol since 1996, but got clean in January, when she was four months pregnant. "I was spending anywhere from $400 to $500 a week on drugs, and I was stealing to support my addiction," she says. "I came to this drug treatment programme from jail."

Her social worker gave her a Project Prevention application form, but she claims the choice to be sterilised was hers alone. "With my history and my past… I love my baby, I love her to death, and I have a lot of things I need to take care of. I think if I kept having babies, that would hinder me."

While Bond says she wants to spend her $300 on starting a new life with her daughter, Harris accepts that many others will use their Project Prevention money to buy drugs. "That's their choice." She sighs, wearily. "The babies don't have a choice."

Benefactors

Project Prevention has arrived in the UK because of a single donation. The benefactor heard an interview with Harris in February and immediately sent her $20,000. He's a wealthy industrial designer, originally from Washington DC, who's lived in the UK for 10 years with his English wife and two children. He cautiously agreed to an anonymous interview – he's worried that being openly associated with Project Prevention could cause problems for his family.

He has personal reasons for supporting Harris: he was adopted as a baby, and when he tried to trace his birth mother a few years ago, she refused contact. As far as he knows, she didn't have addiction problems, but it's the not knowing that gives him sympathy for Harris's cause. "When I hear of all these kids in foster care, being brought up in very unfortunate circumstances, that resonates with me," he says. He regularly donates to Médecins Sans Frontières, Save The Children, the NSPCC and Amnesty, and sees no conflict between their values and those of Project Prevention. "If there were public services out there taking care of this problem, that would be terrific, but they're not. Until such time as municipal governments can get their hands around this, this kind of programme certainly produces the results."

When Harris announced she was coming to Britain, she received hundreds of messages of support. She shows me emails from child protection solicitors, care workers, policemen and doctors all congratulating her for bringing the campaign over here. She promises all UK donations will be paid to British addicts.

Harris thinks the British are ideal candidates for her approach. After all, we already use money to change people's behaviour: charities paid sex workers to stay off the streets during the time of the 2006 Ipswich murders, she says, and the NHS gives Scottish smokers £50 a month if they quit. But the problem is those cash incentives don't result in permanent, life-changing consequences: once you're sterilised, you can never have children. The British Medical Association will meet in September to discuss the ethics of Harris's campaign, but she's not waiting for anyone's approval. Her 0800 number has been active for weeks. "If someone takes a flyer today, I'll pay them."

Outside the Salvation Army centre on Clyde Street, we meet 35-year-old Emily. She has a broken arm and a bloodied chin, and is so high she can hardly speak. She's also seven months pregnant. This will be her fourth child: her 11-year-old is with her mother, her seven-year-old with her sister and her four-year-old is up for adoption.

"The drugs drag you down. That's what it is," she sobs. "I don't know what I can do."

"I appreciate you letting us talk to you," Harris says, gently.

Emily's looking at the yellow flyer, trying to focus. Does she think it's a good offer?

"Yes, because I don't want to have any more children. I do, but I don't. Right? Because I've lost my third one. It's hard. I want more but I know they'll probably take them away."

It feels terrible to leave Emily outside the Salvation Army, confused and distraught, with nothing more than a flyer. "She wasn't crying because she was a drug addict; she was crying because she's got kids and she's not going to get them back," Harris says.

If she had tubal ligation, her life would still be terrible, I say – she just wouldn't be having more children. "Her life would be better because she wouldn't have to go through any more heartache."

But someone such as Emily is in no position to make serious, life-changing decisions. Shouldn't Harris be encouraging her to have drug treatment instead of buying her fertility? "We could spend all the money we have on drug treatment but the women would still be out there having babies." She sighs. "For every drug-exposed child we can prevent from being conceived, that's millions of dollars that can be used for drug treatment."

Addaction, one of the UK's largest providers of drug treatment, has described her approach as "morally reprehensible and irrelevant", because sex education and contraceptive advice is already part of British rehabilitation programmes. Harris is unconvinced. "Some of these women start taking drugs when they are 17, and they might not seek out drug treatment until 10 or 20 years later. So what do you do during those 10 or 20 years?"

What about the question of informed consent? The addicts may not be in a fit state of mind to give it, so Harris leaves it to doctors to judge whether their patient is able to make a rational decision about something as life-changing as sterilisation. But the doctors aren't told by Project Prevention that their patient will be getting money in exchange for the procedure, so they aren't fully informed of the addict's motivations when they make their assessment. Harris sees no problem with this. "If they want to tell their doctor, that's their choice – we don't communicate with doctors."

"What this is doing is selectively punishing disadvantaged women for being disadvantaged, instead of recognising that their addiction problems have arisen because of issues around their social marginalisation," says Dr Mary Hepburn, consultant obstetrician at the Glasgow Royal Infirmary, who has worked with vulnerable women for more than 20 years. "Women may be good or bad parents for lots of reasons, and most want to have children. There is no group in society that we try to prevent from having children."

You don't know the individual's circumstances, Hepburn points out. "Maternal addiction is not incompatible with adequate childcare. There are lots of other mothers who have parenting difficulties. Why is she selecting people with addiction issues?"

The day Harris leaves the UK, a Scottish newspaper runs a front-page story about her visit to Possilpark: "Mum's Fury After Being Approached In The Street And Offered £200 To Get Sterilised." The report concerns a woman who claims she is not a drug user, yet was stopped by Harris. It says Strathclyde police are calling for anyone who has been approached to contact them.

Project Prevention's British volunteers are twitchy. Their spokesperson, Sara Stocks, wishes Harris had never gone to Glasgow. "Some approaches don't travel," she says, carefully. "What is actually enthusiasm and commitment can look a bit hard-headed, gung-ho and careless when it comes across the Atlantic." Project Prevention UK will be different, she tells me, with a focus on cooperation with existing health, drug and social workers, and a managed media policy.

Like all crusaders, however, Harris is convinced her ends justify her means. Her next project, she says, will be in Haiti. "We're going to offer depo [contraceptive] injections every three months to women in exchange for food cards. The women in Haiti are having children they can't even feed, so why are they getting pregnant? Just think about how much suffering that's going to prevent."

My jaw drops. "Step out of your job here," she implores me. "Give me one logical reason why somebody should conceive a child they can't feed!"

Then she begins talking about women in Africa who have Aids, "My thinking is, why are they having these babies? I'm sorry – tell me that you don't agree! If you know you have Aids, why are you getting pregnant and having babies that you know are going to have Aids? Babies are suffering. It's preventable."

The money behind Harris's campaign gives her enormous power, and she wants to deploy this against some of the most disenfranchised and vulnerable people on the planet. Can't she see how dangerous it is for one person to be able to decide who does and who doesn't have children? "I have the power to prevent child abuse," she says calmly. "It's huge power, and it's power for good. Nobody can convince me otherwise."

• Some names have been changed
Source: Guardian UK.